Tips for Maintaining an Organized Living Room
These simple tips for organizing your main gathering space will put the family back in your family room.
1. Welcome the Wastebasket
If trash tends to accumulate in the family room, adding a wastebasket might cut down on clutter. Few family rooms actually have a wastebasket in them; they're not attractive and they can smell. Counteract this by choosing a can that fits your room's decor. If you know food will be thrown away here, get one with a lid and some deodorizing trash bags.
2. Keep Flat Surfaces Clutter-free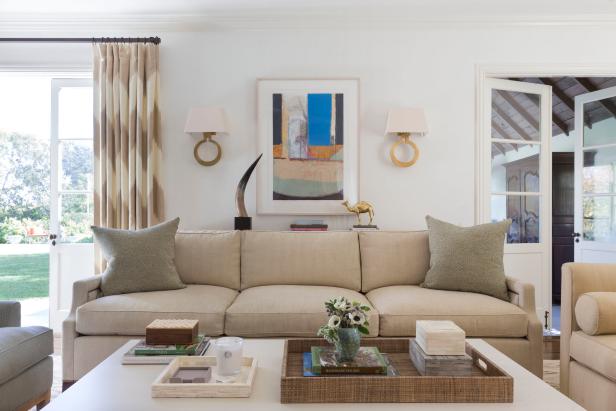 Contemporary Living Room is Fresh and Bright
A comfortable neutral sofa centers the contemporary living room. Abstract art brings a modern note to the space, while trays create an organized look by arranging books and accessories on the coffee table.
Papers, books, brochures and magazines tend to accumulate on flat surfaces all around the house, and the family room is no different. "You need a household information center, and the family room may be where that happens," says Julie Morgenstern, author of Organizing from the Inside Out. In fact, the family room is often more cluttered because it's a central gathering place in the house. A two drawer lateral file is Morgenstern's ideal recommendation - on average she says that's really how much paper it takes to run a home. If you don't have the floor space, a stackable file cart will do.
Make a quick sweep of all flat surfaces by piling papers in a bin, then sorting and purging as necessary. Take a vow, and get your family to follow it, to put papers in files rather than on the coffee table.
3. Control Out-of-Control Cords
Until the world goes wireless, we'll forever be stuck with tangled cables behind our entertainment centers. Fortunately, there are several options for taming cords in the family room. The most attractive is the slim Cableyoyo. It neatly coils up to six feet of cord and comes with an adhesive backing that sticks onto nearly any surface. A cable caddy usually sticks onto a desktop (or behind the TV console) and has a space for several cables to clamp into. Your cords will still dangle freely, however, so a cable zipper, which encloses all the cables in a tube, might be the best bet.
MORE TIPS
Take the time to organize all those electrical wires in your home office with these simple tips.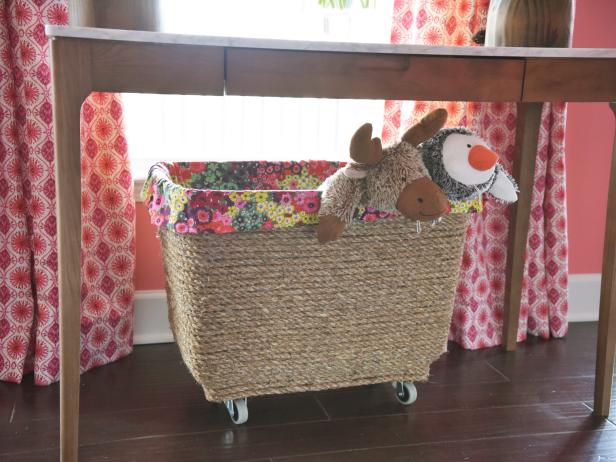 How to Make a Jute-Wrapped Storage Bin
Breathe new life into a basic plastic storage bin with jute rope, hot glue, lumber and metal casters.
Flynnside Out Productions
If toys are taking over your family room, it's time to put them in timeout. Unused corners of a family room transform into great play areas because the walls serve to block encroaching clutter. Corners are also good areas to put a small bookcase or children's table. Add rolling bins for toy storage so your child doesn't have to feel confined, but is encouraged to pick up after he or she is done playing.
5. Coffee Table Functionality
If you have a coffee table (or forgot you had one due to the clutter) it's time to reassess its organizational capacity. Coffee tables that look great but don't have any storage for magazines, remote controls or even drink coasters, are probably making life more difficult. If you don't have the budget for a new one, consider adding low storage cubes, rolling baskets or bins to stick under the table.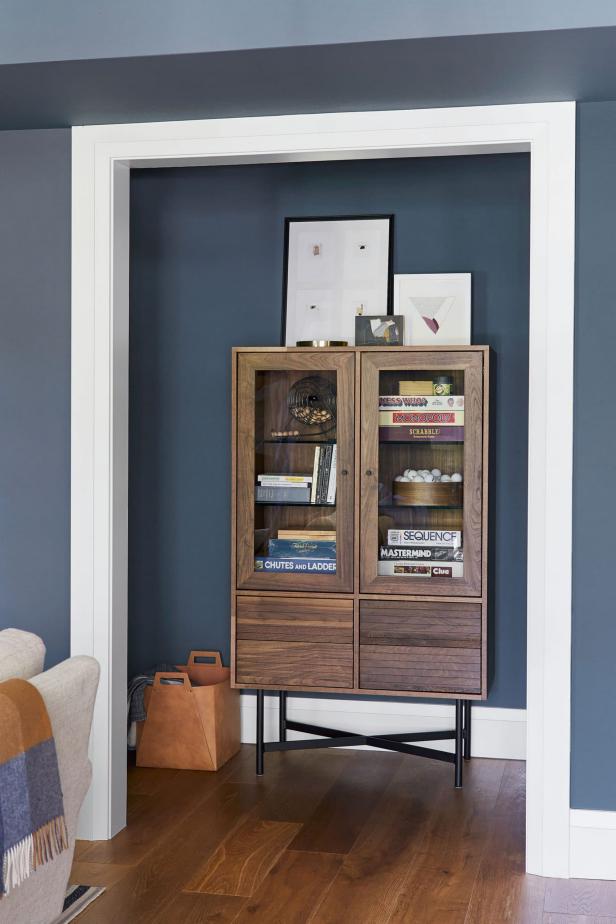 Wood Storage Cabinet for Board Games
Designer Emily Henderson used a closed storage cabinet to corral board games in this family living room. "Closed storage is your best friend because it massively reduces visual chaos," she says. "I like to mix open and closed storage. That way your kids can see some of their toys and easily help clean up."
Emily Henderson Design and Sara Ligorria-Tramp
For a family that likes to play together, a game cabinet for board games and cards is both functional and fun. Games usually end up in a TV armoire, but it's helpful to designate a separate space for them, whether in another shelving unit, a bookcase or in plastic containers below the sofa (if the sofa has a skirt). Creating a single game space will free up other areas of the room for storage. If a computer is part of your gaming area, Julie Morgenstern recommends against a computer armoire. She's rarely seen them work well and recommends instead a desk that has a separate work surface, paper storage and a surface for the monitor.
7. Creatively Display Photos
If you have a lot of small, photo frames that tend to clutter your family room it's time to take control by displaying them in new ways. Photo albums and collage frames are great options for storing lots of photos at once, and a digital photo frame is especially handy for those who don't use film. Don't just use the mantel or side tables; use vertical space on the wall. Organizing your photos by date or occasion in photo boxes is especially helpful for scrapbookers, who can keep these in one central location on a bookshelf.
8. Take Advantage of Space Behind the Sofa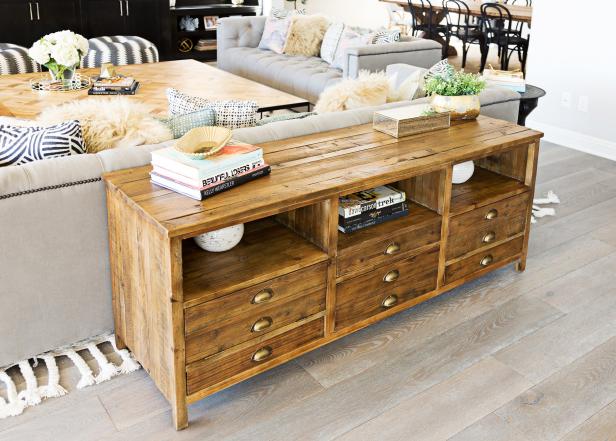 Beautiful Wood Console Table
Behind the sofa in the family room, the console table provides a place for storing books, magazines and knickknacks, making the room feel clutter-free.
Organize extra blankets, pillows, candles in an accessible place - behind the sofa. It's a great place to put a trunk, cabinet or low bookcase. Plus, it gives you another surface to put a lamp or show off some treasured objects.
9. Sort Your Movie Collection
Multimedia like DVDs, videotapes and CDs are staples of the family room. Take 30 minutes to begin sorting your entire collection, making two piles: one for keeping and one for selling back or donating. If you no longer listen to the music or haven't seen the movie in ages (and don't plan on seeing it again), it's time to let go. There are plenty of options for storing your sorted collection: DVD towers, in a bookcase, ottoman or the drawers of a coffee table. Find a system that works for you.
MORE TIPS
Once considered an eyesore, flat-screen TVs are now a focal point in most living rooms. How do you stylishly hide all those unsightly wires and accessories? See how top designers put TVs on display without sacrificing style.
10. Grow Your Houseplants
Sarah Busby; Styling by H. Camille Smith
It can be a jungle in the family room if you have a green thumb. Organize your plants with a cute plant stand or several decorative pots. The type of houseplants you have will determine where you'll place them in the room, so keep that in mind when looking for a stand. Stands typically come in corner, pedestal and tiered configurations and some even have drawers so you can keep your fertilizer and watering can nearby.
11. Curb Your Collectible Enthusiasm
Collections, if you're not careful, can take over valuable storage space in a family room and can be even harder to organize. Large collections display best when bits and pieces are shown at a time (think shadow boxes) and rotated to keep the decor fresh. Cut your displayed collection in half by putting half of the pieces into an appropriately sized container and storing it in a hall closet. For added value, personal or otherwise, keep an inventory of each piece (date acquired, date of piece, description/significance) in the storage bin.