How Much Does It Cost to Install an In-Ground Pool?
The cost of installing an in-ground swimming pool will vary depending on the construction materials, shape and amenities. Here are the biggest factors to keep in mind when calculating the costs of an in-ground pool, including maintenance and winterizing. Plus, discover some of the latest pool trends.
In-ground swimming pools come in all sizes, shapes and styles. They are often preferred over above-ground pools for their aesthetics, ease of maintenance and longevity. But they aren't cheap. Depending on the size and the style of pool you want, you'll spend an average of $30,000 to $60,000 for an in-ground pool. Large pools and amenities such as lighting, cabanas, landscaping, waterfalls, slides and state-of-the-art pumps can easily push prices past $100,000. And maintenance costs add to the overall expense of building a swimming pool.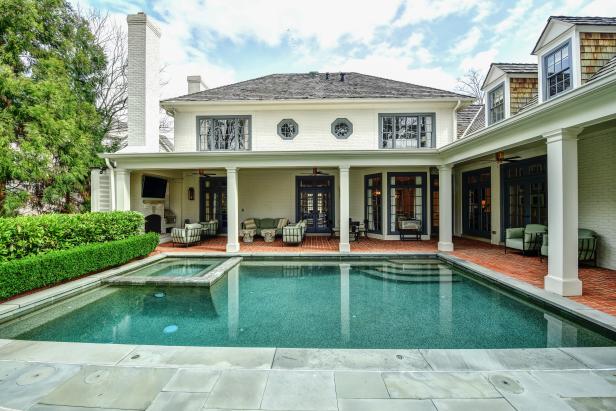 Swimming Pool and Porch
Out back, the house wraps around this inviting swimming pool plus hot tub. A deep porch offers up plenty of shade to those who'd rather sip an iced tea than swim.
Harry Norman, REALTORS, a member of Luxury Portfolio International
Geography plays a role in pool costs too. In regions of the country where it's warm most of the year, an in-ground pool installed in the backyard is almost expected and tends to be cheaper. In cooler parts of the country, where pools are less common, pool installation can be more costly. Some of the cost also comes from excavating an area large enough for your pool. Excavation of a hole for a 16'x30' pool can cost $1,000 to $2,000 if heavy machinery can get into your backyard easily. Problem sites, removal of big trees and rocky soil can raise the cost of excavation to $10,000 and more.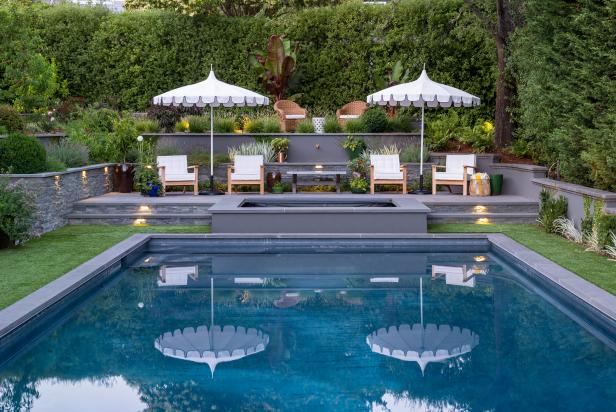 Multi-Level Backyard With Swimming Pool
This multi-level backyard features a rectangular swimming pool, hot tub with matching lining and tiered seating area with twin white umbrellas.
Pool Construction Materials
Most in-ground pools are made of either concrete (gunite or shotcrete), vinyl or fiberglass, with concrete being the most popular. Gunite is applied to a re-bar frame via a spray hose. Then it is covered with a second layer of textured plaster made from the same material as the gunite, but this layer is typically colored with pigments to give the pool a blue, white or gray color. The plaster is often topped with a few rows of ceramic tiles for a decorative effect. A gunite pool takes several weeks to build, but the advantage over other types of materials is that you have more options as to the shape you want. Concrete pools are by far the most expensive to build, costing anywhere from $50,000 to over $100,000.
Vinyl pools tend to be significantly cheaper than concrete. "For a lower cost pool, an in-ground vinyl pool is a good option for about $40,000 to $50,000," says Stewart Vernon, COO and founder of America's Swimming Pool Company. Vinyl refers to the liner of the pool. These are generally prepackaged pool kits and are often ready to use in about a week. The vinyl liner hangs from the wall panels which can be made from aluminum, galvanized steel, plastic or pressure-treated plywood, depending on the manufacturer of the kit. Vinyl pools do not generally offer as many options for the shape of the pool, but they do offer options in the patterns and colors available. For example, vinyl liners can be imprinted with tile patterns that you would otherwise have to pay a premium for if you were to have a fully tiled pool.
Fiberglass is another popular pool material, and it's more affordable than concrete. A fiberglass pool arrives to your site fully built. Imagine a huge bathtub that is sunk into the ground. This type of pool has limited sizes and shapes, but still, there are generally plenty of options to choose from and they take about a week to install. The average cost of a fiberglass pool is about $25,000 for small pools and about $60,000 and up for larger pools. One-piece fiberglass pools must be lowered in place with a crane, so accessibility to your yard is a factor in overall cost. Difficult sites may drive up delivery costs.
In-ground custom-designed concrete or gunite pools offer the most variety of shapes. Vinyl liner in-ground pools typically come in straightforward rectangles but can also include rounded ends. Fiberglass pools generally come in a limited number of shapes but still offer many options. So, if you're flexible with shape options, you can save some money by picking a vinyl or fiberglass pool.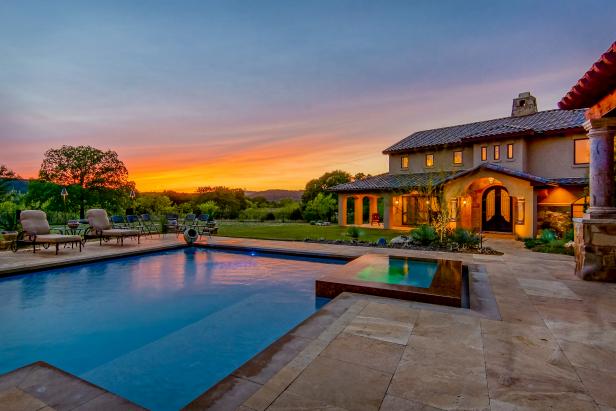 Sunset Over Mediterranean Swimming Pool
This enchanting Mediterranean oasis features a serene swimming pool and hot tub. At night, the home glows thanks to exterior and landscape lighting.
Barron Custom Design, LLC
Maintenance + Winterizing
The most obvious expense of building an in-ground pool is the initial installation, but it's important to factor in weekly, annual and long-term maintenance costs. You will also see a boost to your electric bill for running the filter and/or heater and a hike in your water bill for constant refilling as water evaporates. Add to those costs the price of chemicals and then cleaning and opening and closing for the seasons if you live in an area where cold winters prevent year-round use.
Maintenance costs include weekly or bi-weekly cleanings, during which you must check water levels, test the chemistry of your water, empty the skimmer, and clean the pool surface. This can cost, on average, $100 to $150 per month for weekly or bi-weekly visits from a professional. You may also perform the weekly maintenance yourself, though you will need to purchase the proper equipment and pool test kits.
Then there are long-term or annual costs to maintain the pool and repair parts that break. When predicting long-term maintenance costs, it's important to consider that different pool materials each have their own pros and cons when it comes to upkeep. Concrete pools are nearly indestructible and will last 50 to 100 years. On the downside, concrete has a porous surface that can harbor algae. That means more annual maintenance. Concrete is also an alkaline-based material, which affects the pH of pool water. The water in a concrete pool needs constant monitoring to keep pH values at the correct levels. Concrete also needs to be replastered every 10 to 15 years, at a cost of about $10,000 and up.
Fiberglass pools have non-porous surfaces, which means algae and bacteria can't cling to it. That significantly reduces upkeep costs in both money and time. Vinyl also inhibits algae growth, which results in lower maintenance compared to concrete. However, it isn't as tough as concrete or fiberglass and the vinyl liner needs to be replaced every 10 years or so at a cost of $2,000 to $4,000.
Another cost to factor in for in-ground pools is winterizing. "Winterizing a pool typically costs $200 to $500 depending on the pool's location and includes shocking the water, lowering water levels, cleaning, storing filter elements, clearing water lines, and installing a cover," says Vernon. "Once winter is finally over, you can open your pool back up, which may cost another $200 to $500 for additional cleaning and chemical expenses."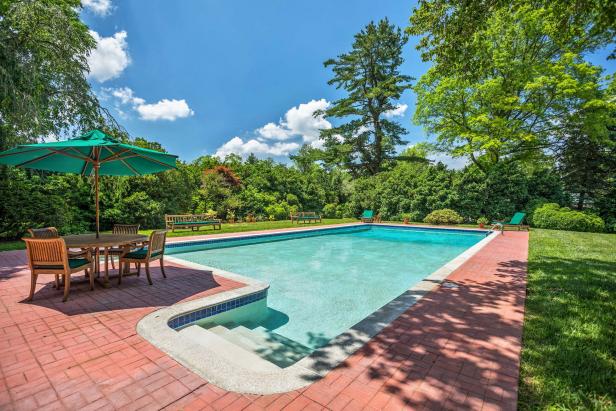 Spacious Heated Swimming Pool
Take a dip in the heated pool at this Maryland estate surrounded with beautiful, mature trees. Or enjoy a cool drink at the outdoor dining table.
Long & Foster Real Estate Inc., a member of Luxury Portfolio International
You can add any number of customizable features to your in-ground pool. These features enhance the appeal but also drive up the cost. One of the costliest amenities you can add is a hot tub. "Adding a spa/hot tub to your pool raises the price dramatically," says Jacob Fladhammer, owner of Emerald Pools & Spas. "This is due to the fact that you will need to add equipment such as pumps and heating sources. Gas lines and upgraded electrical will need to be installed as well." Water features such as rock falls, sheer walls and rain features drive up the price, due to the added materials and additional plumbing. Other features include decking, fencing, lighting and landscaping. Vernon says that sun ledges and tanning shelves have been popular lately, offering a shallow area of water to lay out pool chairs. Families have also been adding bubblers in shallow areas of the pool for young children to play in.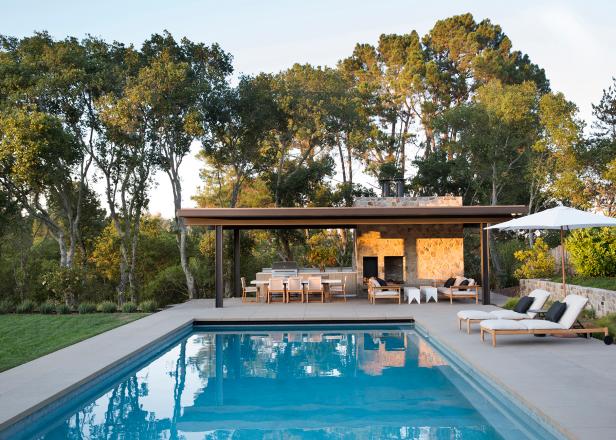 Large Backyard Swimming Pool
Take a dip in the inviting swimming pool then enjoy a meal under the covered patio after. Family chefs can cook up something delicious at the poolside kitchen on the stainless steel grill. Others can lounge under the umbrella in one of the chaise chairs beside the blue waters.
A permanently installed in-ground pool almost always adds value to your home, particularly if you live in a climate that is predominately warm most of the year. It can also enhance your landscape by providing a water feature that creates a pleasing view from inside the house or from a patio or deck. However, Vernon points out that in-ground pools can go either way in colder states. "A home buyer may be excited to have the luxurious option of a pool or they may be concerned with the winterization maintenance fees," says Vernon. "The answer really depends on your local area, the neighborhood you're in, and the buyer."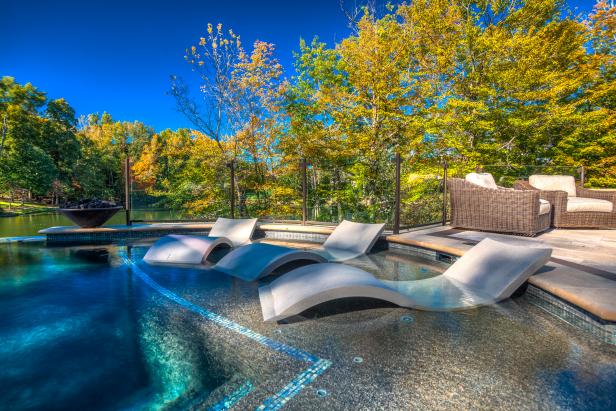 Swimming Pool With Trees
In this outdoor area, there are options depending on your lounging preference: on the patio beside the pool, a little cooling off on the sun shelf or take the plunge and dive on in.
Monette Friedlander, Monette Friedlander, Monette Friedlander
A rising trend with in-ground pools is the use of smart technology. Pool automation allows owners to perform a number of pool functions from their smartphone, including turning the heater on or off, controlling your pool pump, changing the light colors, and turning on water features or hot tubs. Fladhammer says that he has seen an uptick in porcelain paver decking, which offers a non-slip poolside surface. Non-standard pool tiles are also gaining in popularity. "People are sick of the 6"x6" pool tiles," says Fladhammer. "We are seeing more modern 1"x1" glass mosaic or even large-format tiles like subway or 6"x24" tile."
Learn the average cost to put an above-ground swimming pool in your backyard, and how shape and size affect the price. Plus, find out about maintenance costs and water filtration options.
Get that umbrella drink ready. These swimming pools will transform any size outdoor space into an aquatic retreat.
Saltwater and chlorine systems are two of the most common pool sanitization systems. Learn about the pros and cons of each system and find some new alternatives to each.