'Home Town' Makes Its HGTV Debut
Renovation pros Erin and Ben Napier save old homes and help build community in their small and beloved hometown.
Call it a marriage made in heaven. Or call it an old-fashioned Southern romance. Or call it a love affair with old homes and small towns. We call it Home Town, and its making its network debut tonight on HGTV.
You may recall our sneak-peek post from back in January introducing you to show hosts Ben and Erin Napier. Or maybe you were lucky enough to catch the pilot episode when it aired last year. For those of you whose interest and curiosity were piqued, the wait is over. Tonight the new series — focusing on a couple determined to rescue old houses and make a big difference in a tiny Southern town — gets its official series premiere at 10pm|9 central.
As we reported earlier, the Home Town story had its origins when, as newlyweds, Ben and Erin purchased and faithfully restored a 1925 Craftsman style home. Their passion for seeing old homes get a new life grew, and eventually took on a life of its own. In time they decided to make a collective career out replicating their experience, sharing the joy with other residents and newcomers to their town.
Ben is a woodworker with a degree in history and experience in building and construction. Erin is an artist with keen design instincts and a background in illustration and graphic design. The couple met when they were both students at Ole Miss. The couple's charm is hard to deny, and they're Southerners through and through.
Check out this web-exclusive clip wherein Ben and Erin explain a few "Southernisms" for the benefit of non-natives.

9 Essential Southernisms
01:02
Erin and Ben Napier share nine essential Southernisms to learn.
When it comes to renovations, both Ben and Erin ascribe to the ideal of preserving the past, respecting a home's history, staying authentic to original architecture, and, whenever possible, incorporating period elements and reclaimed materials.
Aside from their passion for preserving the vintage homes, historic features and rural charm of their town, Ben and Erin are about fostering a strong community and welcoming newcomers. They take pride in their town and serve as advocates and ambassadors for the simplicity and slower pace found there.
I think the trend toward finding a simpler life is happening in small towns everywhere. We want these families to feel like they are truly at home and to feel it in their heart when they walk in the door.
Erin Napier
In the renovation featured in the new episode, the couple assists a military family as they transition to small-town life. Restoring one of the city's oldest homes — a rundown 4,000-square-foot Craftsman-style cottage built in 1917 — Ben and Erin create an idyllic home for clients Kristen and Kelvin and their three young children.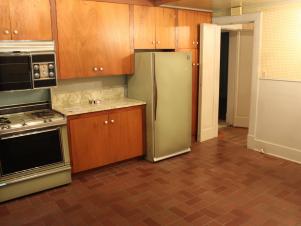 Blue Kitchen Island with Salvaged Wood Countertop
The island top is custom made from wood salvaged from an old bowling alley.
The restored home features a contemporary open-concept kitchen, attached mudroom and functional, kid-friendly family room. Ben and Erin also surprise the new homeowners with special custom touches like a hand-crafted copper gas lantern for the front porch and an island countertop made from a vintage bowling alley floor.
The Home Town premiere episode, titled "A Town to Call Home", airs March 21 at 10pm|9 central. New episodes will premiere in that same time slot throughout March, April and May. Be sure to check back here to see more photos web-exclusive videos.