10 Patio Misters That Will Keep You Cool This Summer
Beat the heat this summer with these top-rated patio misters.
Keep in mind: Price and stock could change after publish date, and we may make money from these links.
Grab yourself an ice bucket, a bottle of rosé and your favorite SPF because it's officially patio season. The rising temps call for outdoor lunches and lounging aplenty, but don't be quick to retreat indoors when they reach a boiling point at the end of May. Stand your ground against the sun and extend patio season with a refreshing outdoor mister.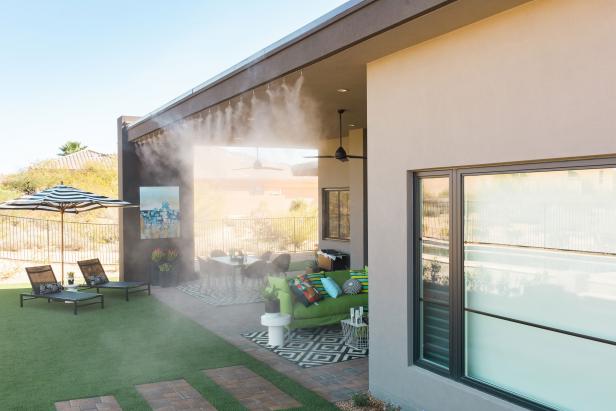 Heat Relief
An effective mister system helps cool off the covered patio. The mister system helps increase the time that can be spent in the home's backyard on hot days and nights.
Deck and patio misters connect to a classic garden hose to deliver a space with a blanket of fine water mist. The energizing, cooling mist has the power to reduce the oppressive summer temps by up to 30 degrees while in use. These life-changing water features come in freestanding, wrapping and overhead designs to best serve your outdoor space. A freestanding deck mister is our go-to pick for sunbathing on a deck or cooling off kiddos and pets in the yard. Wrapping deck misters are perfect for a deck column, while overhead misters appear seamless and integrated when installed on a covered patio roof.
Ready to chill all summer long? Discover the best deck misters on the market and shop the top-rated systems for your outdoor space in the links below.
Skip the sweat this summer with the Orbit outdoor misting set. The value set includes two 3/8-inch basic cooling systems ready to install to a standard garden hose straight from the box. The duo promises to cool down your patio or deck by up to 20 degrees with each use, making even the most sweltering heat waves feel tolerable and refreshing.
Buy It
The best-selling Orbit Mist Stand is portable and lightweight, offering a reprieve from sun rays in any corner of your outdoor space. The durable, freestanding design connects to a standard garden hose and provides localized misting ideal for anyone sunbathing, gardening or heading the grill.
Buy It
Budget-friendly and effective? Yes, please. The Amagoing Misting System is a must-buy to take the edge off hot summer days in your outdoor lounge or dining space. The energy-efficient design is crafted from UV-resistant materials and is easy to install with your garden hose. Each system comes with a high-quality brass mist nozzle and two length options that you can cut to size to fit the parameter of your patio column or deck railing.
Buy It
Find your bliss beneath a blanket of fine mist with the help of the universal cooling system from Lifeegrn. Each kit includes all the hardware necessary for installation, including a universal brass adapter and durable, leak-proof brass nozzles to help keep you cool for many summers ahead. And, if that's not enough reason for you to throw this in your cart right now? The Lifeegrn mister comes in four unique sizes to ensure your system is tailored seamlessly to your outdoor space.
Buy It
Cool off your covered patio or deck in a flash with the quick attach misting system from Project Source. The five-star design attaches to any standard garden hose and comes with 20 hook-and-loop straps to secure the mister to any column, railing or umbrella pole. Plus, you can detach the mister just as easily and move it around to suit your plans for the day.
Buy It
The Misty Mate Cool Patio Hose System provides your covered patio with 20 feet of crisp, continuous mist. The powerful system promises to reduce outdoor temps by up to 30 degrees for comfortable backyard lounging on the most blistering late-summer afternoons.
Buy It
Shop More Outdoor Essentials